French research lab Leti has launched a consortium to develop mid-infra-red photonic ICs for portable optical sensors that analyse gases and liquids, initially for the petrochemical and dairy industries.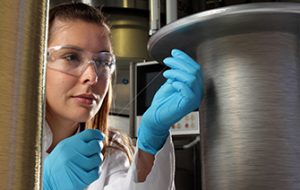 The ICs, integrated on millimetre-size CMOS silicon chips, will "create extremely robust miniature systems, in which discrete components are replaced by on-chip equivalents", said Leti. "This makes them easier to use and reduces their cost dramatically, expected at least by a factor of 10."
CMOS technology, provides low-cost mass manufacturing, as well as access to high-refractive index materials for nanophotonics.
Many chemical and biological materials have identifiable absorption fingerprints at wavelengths between 2 and 20μm – allowing detection and measurement of concentration.
"Despite the mid-infrared wavelength region's importance for a wide range of applications, current state-of-the-art sensing systems in the mid-infra-red tend to be large and delicate," said Leti instrumentation engineer Jean-Guillaume Coutard. "This significantly limits their spreading in real-world applications. By harnessing photonic integrated circuits, using hybrid and monolithic integration of III-V diode and inter-band cascade and quantum cascade materials with silicon, the consortium will create high-performance, cost-effective sensors for a number of industries."
Leti is coordinating the consortium, called Redfinch, and its other members are:
Cork Institute of Technology (Ireland) – Photonic IC design & fabrication, hybrid integration
Université de Montpellier (France) – Laser growth on Si, photodetector growth
Technische Universität Wien (Austria) – Liquid spectroscopy, assembly/test of sensors
mirSense (France) – MIR sensor products, laser module integration
Argotech (Czech Republic) Assembly/packaging of photonic ICs
Fraunhofer IPM (Germany) – Gas spectroscopy, instrument design/assembly
Endress+Hauser (Germany) Process gas analysis and expertise, testing validation
Potential applications are:
Process gas analysis in refineries
Gas leak detection in petrochemical plants and pipelines
Protein analysis in liquids for the dairy industry
The EU is providing funding.