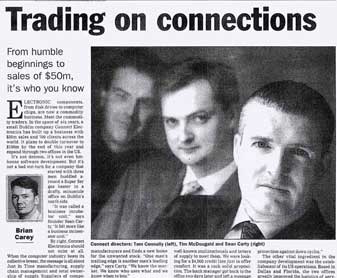 Sunday Tribune
Electronic components, from disk drives to computer chips are now a commodity business.
Meet the commodity traders. In the space of six years, a small Dublin company Connect Electronics has built up a business with €50m sales and 700 clients across the world.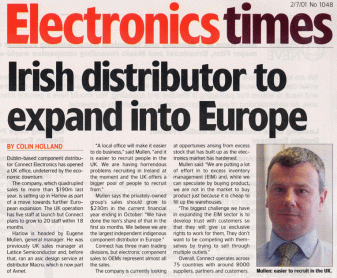 Electronic Times
Dublin-based component distributor Connect Electronics has opened a UK office, undeterred by the econmic downturn.
The company, which quadrupled sales to more than $190m last year, is setting up in Harlow as part of a move towards further European expansion.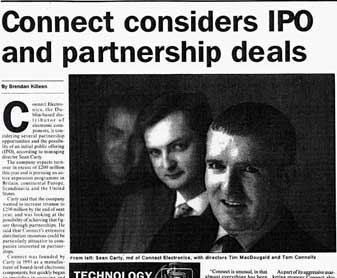 Sunday Business Post
Connect Electronics, the Dublin-based distributor of electronic components is considering several partnership opportunities and the possibility of an initial public offering (IPO), according to managing director Sean Carty.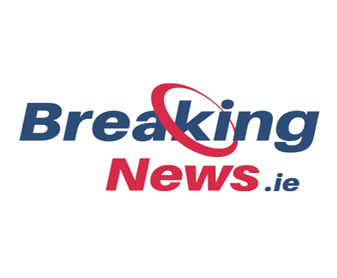 breakingnews.ie
Irish company, Connect Electronics has acquired a €10m shareholding in Broad Band Communications as part of a management buyout.
Broad Band Communications is a telecom infrastructure company responsible for the development of Ireland's largest ever infrastructure development project, T50.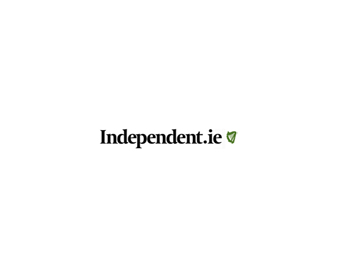 independent.ie
Irish distributor of board level components, Connect Electronics, is at the closing stages of acquiring two UK-based companies in tandem with a £5m investment in its Irish and US operations.
Connect will have the first £6m acquisition in the bag within weeks and will take over the second later this year.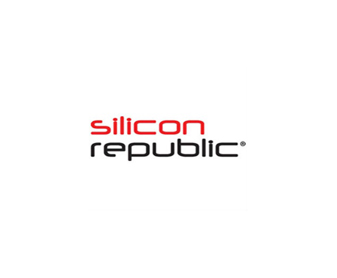 siliconrepublic.com
An Irish entrepreneur has acquired Spanish LED lighting supplier Lita Lighting in a multimillion euro deal.
Sean Carty, managing director of Dublin-based Connect Electronics, bought the Madrid-based firm for an undisclosed sum, and has recently opened Lita Lighting offices in Dublin.
WORLDWIDE SUPPLIERS & PARTNERS